A Comprehensive Buyer's Guide to Garage Doors
In this Garage Door Buyer's Guide, you're going to learn everything you need to know when it comes to purchasing a garage door.
Garage doors have evolved significantly over the past few decades. No longer do you find the same dreary entrance on every neighbouring garage; today, buyers can customise their doors in a wealth of colours, styles, materials and operations.
Many customers revel at the abundance of choice, whereas others find it somewhat overwhelming. In this guide, we're going to give every buyer the opportunity to find their dream door. This is a comprehensive buyer's guide to garage doors.
When it comes to buying a new garage door, the process can sometimes be daunting. There are so many different styles and functions, that it can be difficult to know just which one is best for you and your home. Is a wooden garage door durable enough? What exactly is a roller garage door? These are questions that will probably pop up during your exploration of the garage door market.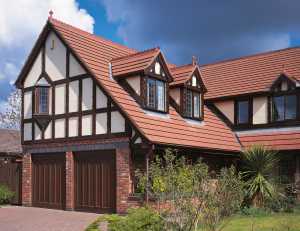 Why buy a garage door?
There are a wealth of benefits to upgrading your garage doors.
Improved security – Garages are prime targets for criminals. Many criminals will scout areas to seek out vulnerabilities. A visibly older and weaker garage door will be an attractive target for thieves. A brand new garage door with all the latest security features will be the best deterrent and defence against potential intrusion.
Protection against the elements – Harsh weather can be a threat to your garage and its contents. Upgrading to a robust garage door with advanced weather protection will ensure that both the door and everything inside is kept protected against torrential rain and wind.
Improved aesthetic – A garage door is a prominent external feature of your home. An attractive door can bolster the aesthetic appeal of your home overall, leading to greater kerb appeal and possibly even an increase in value. Modern-day garage doors can be customised with a variety of colours, styles and finishes.
Suited to a new garage extension – A renovated garage often requires an upgraded door. If you've renovated your garage with the intention of using it as a living space, you may wish to install a garage door that caters for heavy foot traffic, such as a side-hinged garage door.
More modern/efficient operation – If you're someone that drives in and out of your garage most days, a swift, automatic garage door can save you valuable time. Many garage doors can be opened and closed at the touch of a remote control; you needn't even leave your vehicle.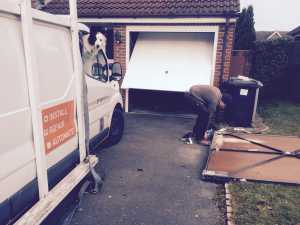 What are my options for a garage door type?
These days, there is a wide selection of garage door types to choose from.
Up and over garage doors – Named for the manner in which they open, up and over garage doors are arguably the most recognisable style of garage door. Simple, unfussy and a classic one-piece design all typify the up and over garage door, meaning they tend to be on the cheaper side and promise a tried and tested, functional garage door.
These doors combine a classic movement with modern features. The up and over garage door travels upwards and is tucked away at the top of the garage, creating ample space for storage or vehicles.
Roller garage doors – Roller garage doors are similar to sectional garage doors inasmuch as they open vertically, but rather than consisting of around four sections, they are split into thin strips which can move independently. This allows them, as the garage door opens, to roll up into a cylinder at the entrance, meaning you can save on space if your garage is on the smaller side.
They also lend themselves perfectly to automation, too, and offer excellent security despite their complex design. Roller garage doors roll upwards and curl above the opening to reveal the inside of your garage. They don't protrude outwards to open or close, making them ideal for use with a small or narrow driveway.
Sectional garage doors – Best understood in relation to the up and over garage door, sectional garage doors are often split into around four sections which arc back sequentially and slot into place. Their slightly more complex design means they offer vertical opening, a modern aesthetic and lend themselves perfectly to automation.
Sectional garage doors protrude similarly to up and over garage doors but lift up in sections rather than as a whole unit. This allows slightly smaller driveways to enjoy an outward-moving garage door while saving precious space.
Side-hinged garage doors – Side-hinged garage doors, as the name suggests, open like traditional double doors that you might find on your conservatory. Side-hinged garage doors can look rather refined when styled correctly, and are useful for those who regularly want access their garage on foot.
Side-hinged garage doors swing open horizontally. They are perfect for garages that are being used as a work or living space.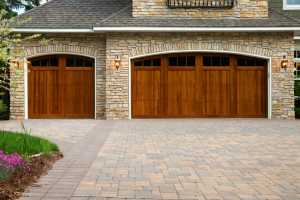 Which materials are best for my garage door?
Garage doors are also available in different materials.
Steel – Steel is certainly the most common material used for making garage doors in the UK. This is largely due to steel's strong, yet workable nature, meaning that it offers excellent security for your property.
It can also be pressed into an enormous variety of styles, finishes and functionalities. Steel is an extremely robust material that guarantees superb protection and insulation all year round.
Wood – If you are after a particularly good-looking style of garage door, timber is the perfect option. The huge variations in graining, shading and knots lend wooden garage doors a wonderfully natural look, one that complements modern and traditional homes alike.
Contrary to what you might think, they have excellent insulative and sound-proofing properties, too. Wooden garage doors are popular thanks to their inviting appearance, natural strength and durability.
Which garage door operations are available?
Automatic – An automatic garage door extends and retracts at the touch of a button. This is particularly helpful when you're often driving in and out of the garage, removing the need to get out of the car.
Manual – Manual operation has been used reliably for decades. It may need physical input to open and close but the door doesn't rely on electrics and is easier to maintain.
What are my garage door sizing options?
Garages come in various sizes. You should ensure that the garage door size you choose is suitable for your personal requirements. The following are standard garage door sizes:
Single garage – Single garage doors are large enough to house one standard vehicle, whether that's a car, SUV or small van. Typical sizes are:
8 x 7 feet
9 x 7 feet
10 x 7 feet
Double garage – Double garage doors will fit two standard vehicles, or one particularly large vehicle, with extra space for storage. Standard double door sizes are:
12 x 7 feet
14 x 7 feet
16 x 7 feet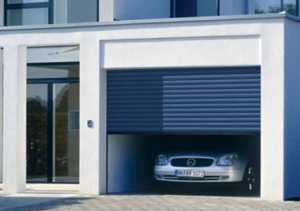 Useful advice to know
How to prepare for a garage door fitting?
If you are preparing to have a garage door fitted, you may be wondering if there is anything you can do to prepare for a fitting. Your new garage door will be installed by our professional team however for the smoothest installation we ask (where possible) that you follow these measures:
Free up space inside your garage
Clear a space outside the garage
Close any parking
Don't take down your current door
Inform your neighbours and children
For a more comprehensive guide, take a read of our "How to prepare for a garage door fitting?" article.
Does homeowners insurance cover a garage door?
Your homeowners insurance usually covers your garage door, however certain conditions must be met otherwise it could be void. It is always best practice to seek the terms & conditions of your insurance provider for the most accurate answer.
To learn more about the certain criteria and conditions that may affect your insurance cover, give our quick read guide a visit.
How are roller garage doors fitted?
As garage door experts, with over 20 years experience, Dimension Garage Doors endeavour to conduct pre-installation checks on all our garage door installations. Our checks are to ensure optimal site conditions. Once we have conducted our initial checks, we can then start to work our magic.
To learn more about how we install roller garage doors, take a browse of our "How are roller garage doors fitted?" article. 
Can I automate my existing garage door?
If your garage door is currently manual, then you can more than likely appreciate the struggle that comes with a manual garage door. In most cases, we will be able to automate your existing garage door. However, if your doors are badly damaged beyond repair then we may not be able to automate your garage door.
To learn more about if we can automate your style of garage door, come give our handy automation guide a read.
Should I repair or replace my garage door?
Your garage door may be damaged and in some cases we can perform a repair service on your garage door. However, some occasions may prevent us from conducting a repair. If this is the situation, we shall discuss your options on an individual basis. Safety is always the logic behind our recommendations.
To discover more about if you should repair or replace your garage door, then take a look at our more in-depth "Should I repair or replace my garage door?" article.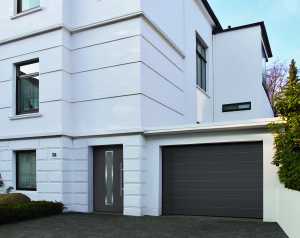 When to replace my garage door?
Within our 20 years worth of experience installing garage doors, we often find out that garage doors are often overlooked by homeowners. Nevertheless, the harsh reality is that a garage door is often an additional entryway into your home. Therefore, in order to protect your family and prized possessions, we recommend that you give a replacement garage door some serious thought if you notice any of the following:
Wear & tear
Movement issues
Noise
Uneven resting position
We have compiled a comprehensive guide for you to mull over, come take a read of our "When to replace your garage door" article.
How to protect your garage door against thieves?
The harsh reality is, that garage doors are a preferred entry point for thieves. Therefore, everything we do at Dimension Garage Doors are undertaken to prevent thieves. Some ways the prevent thieves are as follows:
Keep the windows frosted
Keep your garage door opener in the house
Install an alarm
Ensure your garage door is sturdy
Implement motion sensing lights
For more detailed advice about how to keep your garage door secure, we have compiled our top tips to ensure you garage door is safe against thieves.
Here at Dimension Garage Doors, we're committed to providing the most suitable and best-performing garage doors for our customers. We've been supplying and installing garage doors throughout the North West of England for over 20 years and in that time have cemented ourselves as one of the leading garage door companies across Manchester and Stockport.
To enquire about our broad range of garage doors, or to simply ask us a question about any of the products and services we offer, give our friendly team a call today. We're always happy to help.