How are Roller Garage Doors Fitted?
At Dimension Garage Doors, we have been installing garage doors for over 20 years. To the untrained eye, garage door installation seems like a vastly complex operation, but to experienced engineers — it's just another day at the office. In this article, the team here at Dimension Garage Doors are going to explain how garage doors are fitted.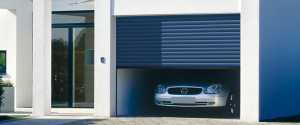 Roller Garage Doors Pre-Installation
Before the installation starts, we need to ensure optimal site conditions. This includes the following:
Your door should be level at the opening.

Your lintel should be level.

The fixing surfaces should be free from loose plaster and masonry.

If we are fitting an electric roller door you must have a suitable socket within 600mm of the control unit for us to provide power to the electric opener (if fitting an electric roller door).
The site must be clear before we start working to ensure a safe environment for our installers. We require a clear area extending approximately 3 metres from the door, and  we ask our clients to move any vehicles away from the front or inside of the garage.
Installation of Roller Garage Doors
We begin by preparing the motor and barrel.
The barrel is held in place by a captive bearing and a mounting plate. We hold the non-drive end of the barrel in place with a 4mm Allen bolt.

We adjust the width as required by loosening the Allen bolt and sliding the shaft.
We prepare the guide rails.
We drill fixing holes and file the inside of the guide channels.
We then fix the guide rails.
We fix the guides to the walls and secure fixings.

We drill and screw at regular points along the width of the door, making sure all screw heads are flush.
The next step is to install the emergency override.
Then, we fit the remote control unit.
Next is installing the curtain.
We slide the curtains into the guide, ensuring the collars are covered to prevent damage.

We slide the auto-locks onto the top lathe of the door and carefully slide the curtain to the closed position.

The curtain is connected to the barrel using location pegs.
We set the motor limits.
Finally, we fit the enclosure.
We drill and fix into place with self-tapping screws or pop rivets.

We then reinsert the manual override through the pre-drilled hole and fix it into position.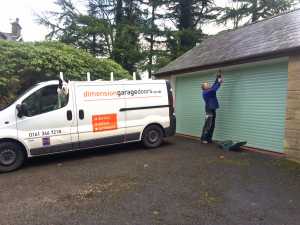 Dimension Garage Doors have two decades of experience installing a range of garage doors throughout Manchester, Stockport & the surrounding areas. Our roller garage door range comes with many benefits:
Available in up to 25 colours

Insulated & sealed

Opens vertically

Automation is standard

Glazing is available upon your wishes.
For more information, get in contact with us today to discover how you can benefit from a new roller garage door.