How To Organise Your Garage
Regardless of whether we have grand ideas of making our garage an organised space for DIY projects or not, they seem to always end up filled with nondescript junk. However, it doesn't have to be this way. If you want to get on with some DIY jobs this summer and need to organise your garage – it doesn't have to be a chore.
In this article, we'll look at some fun and simple ways that you can inject some character into your garage, tidy it up and, most importantly, make it a little more functional!
1.
Make Some Shelves
One of the main problems with garages around the UK: there's no storage. This is never a problem to start with.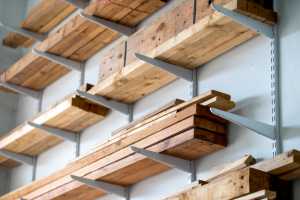 When we move in, we might start stacking things in corners or near walls, keeping things neatly out of the way. However, before we know it, our garage is a sprawling mass of debris that we'd rather not have to deal with.
In order to avoid this, install some shelves on the walls in order to arrange items in a more structured way. Rails work well for larger landscaping tools, while boxes and are better for smaller items.
2.
See-through Containers
DIY jobs require a lot of small, fiddly components. We need nails, bolts and screws, all varying in size, and trying to find each one when we need them most can be a nightmare. Keeping this in mind, using clearly labelled see-through plastic containers can really help – and drastically reduce the time spent searching for smaller items.
3.
High Spaces
For many garages, a lot of good storage space is wasted, particularly up high. Many garages have ceiling space which could easily be utilised, so why not give it a try? High shelves, cabinets and – if you're feeling more adventurous – a storage system which can slide boxes on and off, can be a great way to store bulky seasonal items like Christmas decorations which only get used once a year.
4.
DIY Bike Rack
While ensuring that the smaller items are properly organised is very important, it's often the larger items which can give the impression that our garage is unorganised. Bikes, for example, can be a real pain to store. So, why not make a bike rack? Simply find a space on one of the garage walls where you would like the bike rack to be located, and fix a shelf with a pole connected across it. Then, attach some hooks to the pole which can hold the weight of your bike and fasten the front wheel using a tie. This is a great, cost-effective way to keep your bike secure.
Dimension Garage Doors can help. We have a wide range of high-quality automated garage door options from some of the world's leading manufacturers. Our reliable doors combined with our technicians' experience and skill ensures you will get a long-lasting, top quality finished result. What's more, we offer our customers across the North West our automation, maintenance and installation services at highly competitive prices. Contact us today for more information.